Posted by : yankeesrj12
Monday, March 10, 2014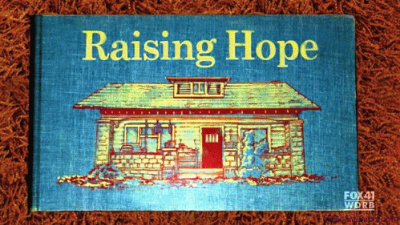 After four seasons, low-rated
Raising Hope
has been cancelled by FOX.
In an announcement from the network (the official press release is below), it stated
Raising Hope
will end its four season, 88 episode, run on April 4th with a one hour episode.
The cancellation is not all too surprising, given the quirky comedy has only averaged 2.14 million viewers and 0.7 A18-49 demo in its Friday night timeslot.
Before moving to Friday nights,
Raising Hope
was a solid timeslot filler for three seasons on Tuesday nights. The show not only had the lead in of
New Girl
for a season, but also aired in the 8 o'clock anchor timeslot, producing okay numbers against stiff competition.
When FOX announced
Raising Hope
was moving to Friday nights, it was widely expected this would be the final season. FOX now has the standard 88 episodes needed for syndication purposes.
Here is the official press release:
THE CHANCES HAVE AN UNFORGETTABLE BACKYARD SEND-OFF
IN A ONE-HOUR SERIES FINALE OF "RAISING HOPE"
Critically acclaimed comedy RAISING HOPE will end its four-season run with a special one-hour farewell event Friday, April 4 (9:00-9:30/9:30-10:00 PM ET/PT).
The series finale kicks off with the all-new episode "How I Met Your Mullet" (9:00-9:30 PM ET/PT), in which guest star Lesley Nicol ("Downton Abbey") plays Jimmy (Lucas Neff) and Sabrina's (Shannon Woodward) new maid. Then, in "The Father Daughter Dance" (9:30-10:00 PM ET/PT), Virginia's (Martha Plimpton) dad (guest star Jeffrey Tambor, "Arrested Development") returns to Natesville with a big surprise for her and Burt (Garret Dillahunt), including a musical performance by Kenny Loggins (guest-starring as himself).
"On behalf of myself, Greg Garcia and RAISING HOPE's amazing cast and crew, I would like to thank our audience for tuning in and supporting us over the last four seasons," said executive producer Mike Mariano. "We planned our Season Four finale with this possibility in mind, and hope our loyal fans enjoy the way we've chosen to say goodbye to the Chances and to Natesville. Thanks again, and we'll see you in syndication."
"Getting to know and love the Chance family on RAISING HOPE has been a sweet, hilarious ride," said Kevin Reilly, Chairman of Entertainment and Joe Earley, Chief Operating Officer, Fox Broadcasting Company. "Thanks to the incredibly talented cast – along with Greg, Mike and the entire crew – for making us laugh for four fantastic seasons."
RAISING HOPE, created by Greg Garcia ("The Millers," "My Name is Earl") premiered in the fall of 2010. Starring Emmy Award winners Martha Plimpton and Cloris Leachman, Garret Dillahunt, Lucas Neff, Shannon Woodward and Gregg Binkley, the series follows a lovingly dysfunctional family as they raise an adorable yet unexpected addition to the family – a little girl named Hope (Rylie & Baylie Cregut). In 2011, Martha Plimpton and Cloris Leachman were both nominated for Primetime Emmy Awards for their leading (Plimpton) and guest (Leachman) roles on the show.
Don't miss the final five installments, beginning this Friday (9:30-10:00 PM ET/PT) with the all-new "Dinner With Tropes" episode, featuring guest star Judith Light ("Who's The Boss?") as Virginia
's boss.
RAISING HOPE is produced by Amigos de Garcia Productions in association with 20th Century Fox Television. Mike Mariano serves as executive producer on the series. "Like" RAISING HOPE on Facebook at
facebook.com/RaisingHope
. Follow the series on Twitter
@RaisingHopeFOX
and join the discussion using #raisinghope. See photos and videos on Instagram by following
@raisinghopefox
.